The Different Video Formats in the Customer Journey
Each section of the client's journey needs a different video format. This formats are very diverse and the costs of production too.
In the awareness phase, a film is needed that appeals above all to the emotions. Strong stimuli are necessary and messages that go directly to the subconscious. Images, rhythm, sound, everything serves one purpose: to captivate the target persons and make them receptive to the message.
The customer funnel is like a membrane through which the users constantly escape to the side. Accordingly, the preparatory effort should be particularly high. Creative ideas and concepts, implemented in a highly professional production, count above all here.
Pool position at the start of the customer trip
However, this phase does not only require a higher effort for idea and film production. Awareness only reaches the video if it is also seen in many places. That's why this is especially true here: Have enough resources ready for distribution. Otherwise all previous efforts will be lost.
VORSATZ.MEDIA explains the advantage of a website with partial pay wall.
This can be a budget for paid media to market your content as native ad. But it can also be the human resources to serve all playout channels in-house with the video(s) tailor-made.
Medium level – medium effort
The interest is there. The funnel has become narrower. It's a pity for all those who are still lost. Now it is a matter of providing more in-depth information. The decision for your product or service must be supported. This is where explanatory videos, product videos and customer stories come into play.
It is no longer a matter of reaching new users in the target group, but of guiding the advanced "travellers" to targeted actions. Added value is important, content is deeper. Your target group feels that it has been picked up at your painpoint.
The focus is no longer on the big emotions, but on information. For the video production the knowledge of the specialist is in demand. To secure ROI means here: To understand the customer's wishes better than the market participants and to build up sympathy in the process. The video production must be professional, but the effort should be kept to a minimum.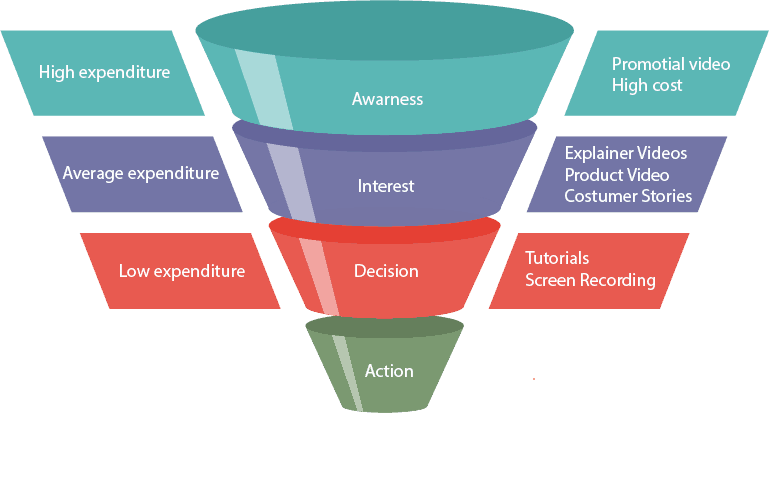 Lower level – low costs, lots of content
In the decision phase, the videos are available with all the information that provides the last bit of information for the purchase. These can be tutorials, screen recordings for handling the central dashboard or webinar recordings.
As a company, you can best produce this yourself, possibly with initial consultation. Nobody knows as much about your services as you do. It is also not about glossy productions, but about facts. The potential customer is willing to invest more time here.
The videos can therefore be significantly longer.